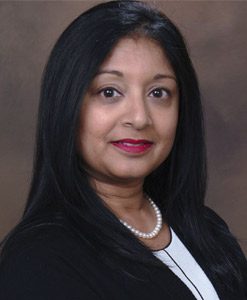 Manju Kalidindi is the Founder and Principal Attorney at the Law Offices of Manjula Kalidindi, P.A. The firm is dedicated to the practice of Immigration Law exclusively. She represents foreign nationals who are seeking employment based visas; family-based immigrant petitioners, and corporations seeking to hire temporary foreign workers.  She accompanies clients to immigration interviews for residency and citizenship. She also prepares visa applications for deferred action and for victims of abuse and crimes.
She is deeply committed and involved in the community in which she lives and works and believes that we can all make a difference for the better when we choose to serve something higher than ourselves.
EDUCATION
Juris Doctor – Hamline University School of Law, St. Paul, MN
Bachelor of Science (Political Science) – Florida Atlantic University, Boca Raton, FL
EMPLOYMENT
Founder and Principal Attorney at Manjula Kalidindi, P.A.
PUBLICATIONS
EB-5 – Desh Videsh, May 2018
Know Your Immigration Rights – Desh Videsh, May 2017
PRESENTATIONS
Violence Against Women Act – Women In Distress, May 2018
Community Immigration Forum – March 2017
Know Your Rights – ACLU Broward County Chapter, March 2017
Immigration and Domestic Violence – Association for Asian American Studies Conference, April 2016
Domestic Violence and Immigration – Women's Seminar, South Florida Hindu Temple, January 2015
Domestic Violence and Violence Against Women Act – Broward College, November 2014
Domestic Violence – Broward College, October 2014
Investor Visas and Non-Immigrant Visas – Guatemala City, Guatemala, August 2011
J-1 Visas – University of Chennai, India, December, 2006
LEADERSHIP
Founder and President – thisdaughter.com, a website serving as a platform for the empowerment of women and girls
Past President – Sahara of South Florida, a non-profit assisting victims of domestic violence
PROFESSIONAL MEMBERSHIPS
Florida Bar
Association of Immigration Lawyers of America
South Florida Immigration Lawyers Association
South Asian Bar Association
VOLUNTEER ACTIVITIES
Board Member, Women In Distress
Volunteer Attorney, Broward Legal Aid
Volunteer Attorney, May 2017 Citizenship Clinic, Florida Asian Services Center
Past Member, Open Space Recreation Advisory Committee, Town Of Davie
Past Board Member, Association of Performing Arts of India
AWARDS/RECOGNITIONS
Community Leader Award, Desh Videsh Media Group, 2015
Broward Lawyers Care Attorney of the Month, November 2012
Exceptional Pro Bono Service, Florida Supreme Court 2010, 2015
MEDIA
NPR – quoted on citizenship, May 2017